Analysis
Best Bets for Division Series: Mariners vs. Astros, Phillies vs. Braves for October 15, 2022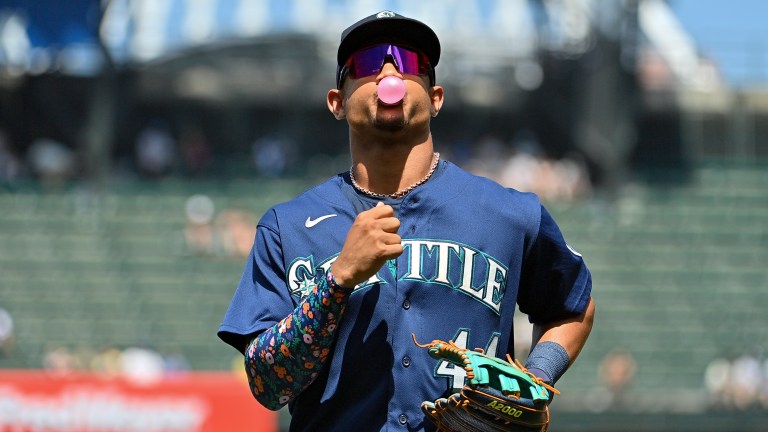 We dominated the board yesterday. We have now won NINE straight prop bets, and I'm planning on going for glory again today. We won on the Padres through the first five innings as well even though everyone told me it wouldn't hit.
I have two game picks in this article, but make sure you follow me on Twitter for my prop bets today.
2022 MLB Regular Season Record: 225-183 (55%) +43.09 Units
Houston Astros vs. Seattle Mariners: 4:07 pm EST
Lance McCullers Jr (RHP, Astros) [4-2, 2.27 ERA, 1.24 WHIP, 50 K]
George Kirby (RHP, Mariners) [8-5, 3.39 ERA, 1.21 WHIP, 133 K]
It all comes down to this Seattle. Game three, back against the wall, win, or go home.
The Mariners ended the longest playoff drought in Major League Baseball and came into these playoffs as a legit threat to make it out of the American League. They had their way with the Blue Jays and showed plenty of fight in that late-inning comeback. That comeback was not only impressive, but it was also historic. They were one of three teams to survive a seven-run deficit in playoff history and the first to do it on the road. If any team fights, it's the Mariners.
The Astros are good. Real good. They are incredible in all facets of the game. They have a fantastic offense with one of the best defensive units. They have six different starting pitchers they can rely on and the best bullpen in baseball. This team has no weaknesses, and they haven't shown one yet. The Mariners gained a heavy lead in game one, and look what happened.
As we saw yesterday with the Phillies and Padres, T-Mobile Park is about to be loud. Seattle fans will pack in there like crazy, and I'd be surprised if they even let in Astro fans. These home openers have a different type of energy, and it seems to be producing wins across the league. So far, teams in their home opener in the ALDS are 5-1.
George Kirby will take the mound for the Mariners, but I don't expect him to go long. His props are low, and I would expect the Mariners to deploy their bullpen after one time around the order. Kirby is a rookie, so a lot is hanging on his shoulders. With that said, I'd be worried if he were a young pitcher who struggled with command. It's challenging to find a rookie pitcher with better command than Kirby, sitting in the 96th percentile in walk rate at 4.1%.
Kirby has only faced the Astros once this year, throwing four innings while allowing two earned runs. As you can see from the screenshot above, the Astros could string together hits, but the quality of contact was poor, and Kirby racked up plenty of strikeouts. Kirby was a touch better at home and during the day this season, recording lower ERA's in both spots. My guess is he'll bring everything he has for three innings, then turn it over to one of baseball's best bullpens.
Opposing Kirby will be Lance McCullers Jr, who only threw 47 innings this year after recovering from a forearm injury. Lance is often referred to as "Playoff McCullers" because of how dominant he's been in the playoffs with the Astros, but anyone can be beaten on any given day.
McCullers is mostly slider, curveball, and sinker, all of which are nasty. This is a good matchup for the Mariners, as most of their better hitters, including Ty France, Julio Rodriguez, and Eugenio Suarez, have solid numbers against those three pitches.
Seattle is about to be loud, and it will be a callous environment for the Astros to come in and get a win. The Mariners giving everything they have in an elimination game. I'm taking the home team to push this series to game four.
The Pick: Seattle Mariners ML (+100)
1 Unit to Win 1 Unit
_______
Atlanta Braves vs. Philadelphia Phillies: 2:07 pm EST
Charlie Morton (RHP, Braves) [9-6, 4.34 ERA, 1.23 WHIP, 205 K]
Noah Syndegaard (RHP, Phillies) [10-10, 3.94 ERA, 1.25 WHIP, 95 K]
This is the first matchup since 1908, where both the starters of a playoff game are above 40 years old. Not really, Noah Syndergaard is 30, and that's a made-up stat, but doesn't it seem like Syndergaard is 40? Maybe that's just me, but this will be a battle until the end for both offenses. I'm currently sitting on a Phillies series price bet at +180, so I'll have a pick on the total for you.
The Braves are seriously up against the wall. The unexpected has happened, as the Phillies took a 2-1 series lead yesterday with a 9-1 win in dominating fashion. It seems that the Phillies can't lose, but at the same time, are the Braves headed for a gentlemen's sweep?
THIS IS MAYHEM.
Let's talk about the weather before we talk about anything baseball related. Ballpark pal is calling for a 6% increase in runs due to 10-14 MPH winds blowing out to left-center field. According to baseball savant, Citizens Bank Park has played as the sixth-best hitters' park this year,, and now we have two pitchers without much success, followed by less-than-rested bullpens.
Charlie Morton, AKA Chuck Nasty, AKA Playoff Chuck, will get the ball for the Braves today. The 38-year-old is battle tested (he finished out an inning on a broken leg), so I have faith nerves won't be much of a factor for him today. While he won't be nervous, the Phillies have had his number this season. He's faced the Phillies five times, tossing 26.1 innings, allowing 31 hits and 16 earned runs to give him a 5.47 ERA.
Not only have the Phillies had his number, but he's also been dreadful on the road this season. I don't use the "dreadful" term lightly; he's been one of baseball's worst road pitchers this season. At home, Morton went 6-1 with a 3.05 ERA in 88.1 innings. On the road, he went 3-5 with a 5.72 ERA in 83.1 innings. In 15.1 innings at Citizens Bank Park this season, Morton has a 7.04 ERA. The Braves are in trouble.
It's not all bad for Atlanta; they get to face Noah Syndergaard. Following Noah Syndergaard will be some combination of Kyle Gibson or Bailey Falter. None of those pitchers give me faith the Phillies can win this one. Syndergaard has only faced the Braves once this season, and it was three days ago when he threw one inning in relief.
Gibson has been mediocre at home, and against the Braves; he has a 5.06 ERA. Falter has a 5.49 ERA at home this season and a 7.56 ERA against the Braves this season.
While the Braves have struggled in day games and on offense this series, it's now or never. I have faith in both offenses in great weather to show up today against less-than-ideal pitching options. Considering the under is juiced, and the over is plus money, give me that.
The Pick: Phillies vs. Braves Over 9 (+100)
1 Unit to Win 1 Unit
_________