Analysis
Best Bets for ALDS Game 2: Seattle Mariners vs. Houston Astros, Cleveland Guardians vs. New York Yankees for October 13, 2022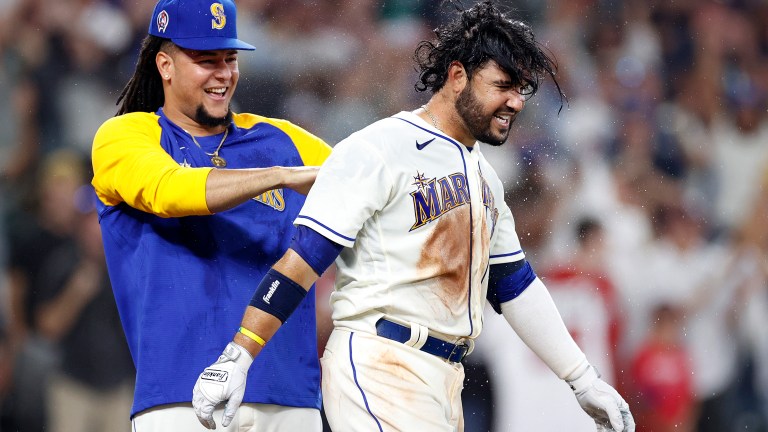 Fantastic day yesterday! It wasn't perfect, so the leather jacket won't be worn today. But we made out extremely well.
Today, I have one pick for you in these two MLB games. I also have a Thursday Night Football pick and plenty of props on the podcast.
2022 MLB Regular Season Record: 224-182 (55%) +43.09 Units
Seattle Mariners vs. Houston Astros: 3:37 pm EST
Luis Castillo (RHP, Mariners) [8-6, 2.99 ERA, 1.08 WHIP, 167 K]
Framber Valdez (LHP, Astros) [17-6, 2.82 ERA, 1.16 WHIP, 194 K]
We head to Minute Maid Park for game two in what is already a riveting series. The Mariners jumped out to an early lead off Justin Verlander but the Astros closed in on them near the end of the game. It took one swing from Yordan Alvarez to give Houston the 8-7 win. We saw a fantastic debut from both offenses in a staunch pitching matchup, so why wouldn't we see that again today?
Luis Castillo looked like an ace in his last start against the Blue Jays. He threw seven shutout innings while allowing six hits and five strikeouts. Castillo was everything the Mariners hoped for when they acquired him at the deadline. Will he continue this magic against an elite Astros offense? I'm not so sure.
Framber Valdez is the quality start king. He's able to go deep into games due to quick counts from ground-ball outs. He's been stellar this season, but he does have strange home/road splits. Valdez has been a bit off at home in the past couple of seasons. In 2021, he had worse splits at home and that's carried over into this year. Not only has it continued, but it's also been more drastic.
At home, Valdez went 7-4 with a 3.54 ERA with a .240 opponent batting average. On the road, the average dropped to .209, and he went 10-2 with a 2.27 ERA. The Mariners' offense has seen him plenty and has been able to score off him despite the underlying analytics looking so strong.
Valdez has faced the Mariners on two separate occasions this season. He faced them once at home and once on the road but both produced similar outputs. Over 13.2 innings, he allowed 13 hits and six earned runs to give him a 3.95 ERA. The Mariners are a pesky team and while Valdez kept them on the ground, they were able to find holes in the infield enough to get to him.
The Mariners also have some intriguing splits of their own. They were much better hitting on the road this season, putting up a .720 OPS on the road versus a .688 OPS at T-Mobile Park, one of the best pitcher's parks in baseball. They were also slightly better against lefties, rocking a .711 OPS versus a .702 OPS against righties. They were around the same during the night and the day on offense.
Luis Castillo was blowing gas against the Blue Jays, routinely touching 99 MPH against the Blue Jays' offense. The issue with him today is the harder you throw it to the Astros, the harder they hit it. This is an elite fastball/sinker-hitting team, with the big boppers in the lineup doing major damage off of those pitches.
Castillo also has some interesting splits. He's not only been slightly worse pitching on the road, but his ERA jumps from 2.55 during the night to 3.76 during the day. I don't normally think much of this, but again, this is just a small edge that you can add to an overall larger edge.
September was the worst month of the year for Castillo. He threw five times over 27.2 innings and allowed 15 runs, 12 earned, to give him a 3.90 ERA. He might be finding his groove, or he could get run up on by this elite Astros offense. I lean towards the latter. Castillo hasn't faced the Astros on the road in front of that loud crowd. It could get ugly.
While the Astros are a better offense against lefties, they are incredible at home. They are rocking a .778 OPS at home versus a .711 OPS on the road. They even have a .760 OPS during the day versus a .734 OPS at night.
I'm not very confident in either of these starters today, but I am confident that both offenses can get it going. I am extremely confident in the bullpens, especially after resting yesterday, so I'm staying away from the full game total even though that's where I'd lean on the full game.
I believe the biggest edge and best value is through the first five innings. I think both starters will allow at least two earned runs, and we have plenty of opportunity for more.
The Pick: Mariners vs. Astros First 5 Innings Over 3.5 (+105)
1 Unit to Win 1.05 Units
_________
Cleveland Guardians vs. New York Yankees: 7:37 pm EST
Shane Bieber (RHP, Guardians) [13-8, 2.88 ERA, 1.04 WHIP, 198 K]
Nestor Cortes Jr (LHP, Yankees) [12-4, 2.44 ERA, 0.92 WHIP, 163 K]
I was super excited about this one until I stepped outside of my New York City apartment. The weather is trash and it's only supposed to get worse. I'm not much of a weatherman, but if you read some of the reports, it's not good. Unfortunately, I'll be staying away from this game due to the weather.