Analysis
Astros vs Yankees, Padres vs. Phillies, Championship Series Best Bets for October 23, 2022.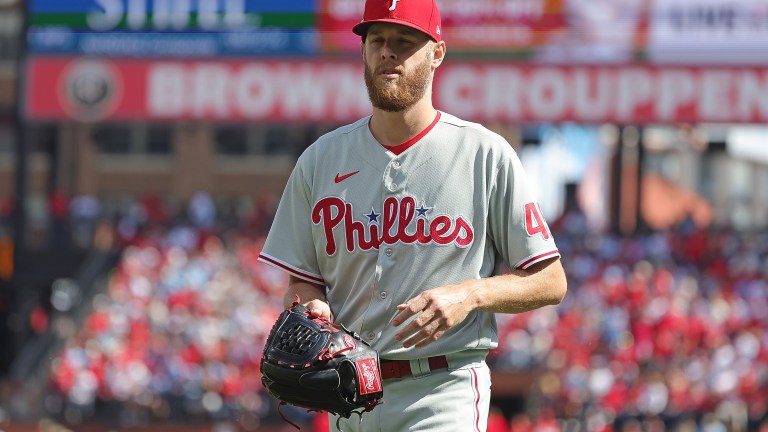 Yesterday was fantastic. We won on the under and both of our player props.
Today I have two game picks for you and again, stay tuned for props on my Twitter.
2022 MLB Regular Season Record: 228-187 (55%) +42.09 Units
San Diego Padres vs. Philadelphia Phillies: 2:37 pm EST
Yu Darvish (RHP, Padres) [16-8, 3.10 ERA, 0.95 WHIP, 197 K]
Zack Wheeler (RHP, Phillies) [12-7, 2.82 ERA, 1.04 WHIP, 163 K]
How amazing it must be to be a Philadelphia sports fan at the moment. You have the undefeated Eagles, the 76ers are one of basketball's best teams, and the Phillies are on their way to a World Series.
Zack Wheeler gets the ball for the Phillies today in the final game at Citizens Bank Park. I've said it before, and I'll continue to say it. I think Zack Wheeler is the best pitcher in the playoffs right now.
The uptick in velocity that he's experienced, moving from about 95-96 MPH to 97-98 MPH, puts him up there with any pitcher in the entire sport. He looks as good, if not better than his CY Young caliber season last year.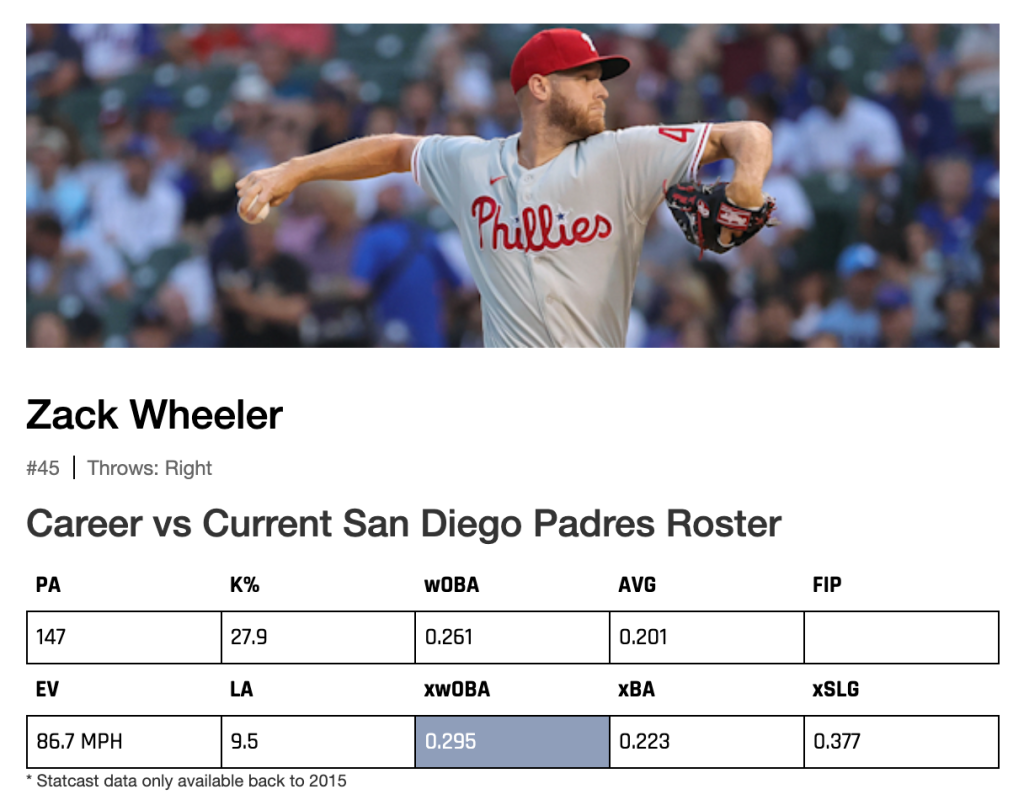 He was brilliant in Game 1, throwing seven innings of shutout ball while allowing just one hit. The Padres didn't have a chance. What made this start even more impressive was it was in Petco Park, where the San Diego fans were as loud as any stadium we've seen. It didn't matter; Wheeler destroyed them when he's been shakier on the road this season.
Now you get Wheeler in Citizens Bank Park, where he's dominated all season. In Philadelphia this year, he's rocking a 1.85 ERA compared to a 3.84 ERA on the road. His arm being fresh is also important, as the Phillies opted not to throw him in game four so he could get adequate rest.
Yu Darvish will oppose Wheeler, who pitched very well outside of two mistakes to Bryce Harper and Kyle Schwarber. That was in San Diego, where it's much easier to pitch, and he had the crowd behind him.
Now, all the pressure is on his shoulders to perform in a hostile environment against a confident Phillies lineup that appears to be firing on all cylinders. It also doesn't help that Darvish has been slightly worse overall on the road, and now he'll switch from a pitchers' park to a hitters' park that's more susceptible to home runs.
It must have been deflating for the Padres to blow multiple leads yesterday and now have to face Wheeler. They got a four-run lead yesterday before giving it up almost instantly. They then took a 6-4 lead before losing 10-6. I would not want to back the Padres today early, but I also wouldn't be shocked if they pulled out a win in the end.
The Phillies' bullpen has been more and more suspect lately. I don't trust a single arm outside of Seranthony Dominguez who threw a ton in Game 3. He should be good to go, but getting to him could be an issue if Wheeler only goes six.
The Padres bullpen lines up nicely today. They should have Suarez, Hill, and Hader ready to go after Darvish. I think the Phillies are the play through the first five innings to back Wheeler but I don't want to back the bullpen.
The Pick: Philadelphia Phillies First 5 Innings ML (-135)
1.35 Units to win 1 Unit
________
Houston Astros vs. New York Yankees: 7:07 pm EST
Lance McCullers Jr (RHP, Astros) [4-2, 2.27 ERA, 1.24 WHIP, 50 K]
Nestor Cortes Jr (LHP, Yankees) [12-4, 2.44 ERA, 0.92 WHIP, 163 K]
As a Yankees fan, I mentally lost the series after game two, so three hits in Game 3 in the first game of the ALCS didn't hurt nearly as bad as I thought it would. The Yankees look dead. From the at-bats to the body language, it looks bleak for New York.
With that said, the pitching has been there for the Yankees this entire series. The stat line for Cole didn't look great, but he pitched better. He gave up a 335 ft home run, and the last inning hurt him. Trivino relieved him and gave up that base hit to score two runs.
After Cole pitched, the Yankees bullpen shut the door again, and they'll have a slew of relievers rested and ready to go. Clay Holmes, Jonathan Loisaga, and Wandy Peralta should all see a significant workload tonight.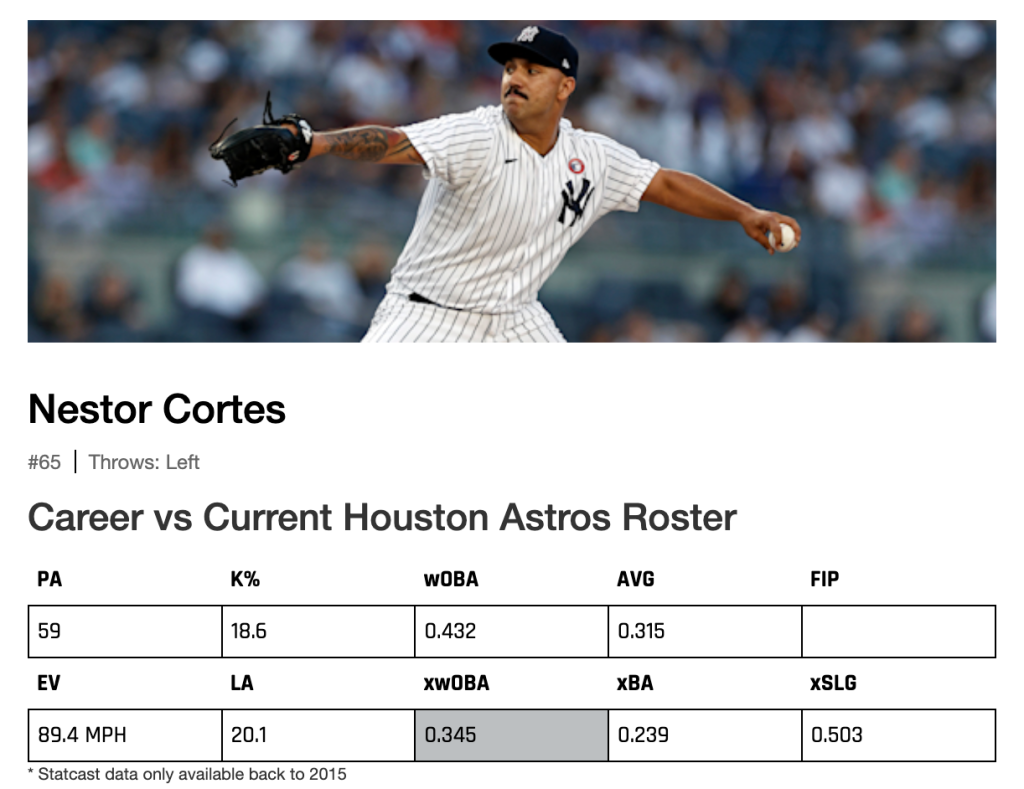 What Nestor Cortes Jr will bring the Yankees is the question. He threw against the Astros on June 26th, allowing three earned runs in five innings. He pitched better than the box score indicated, and Altuve and Dubon provided most of the offense. Altuve couldn't hit water if he fell off a boat right now, and Dubon shouldn't play in this game.
The advanced numbers aren't strong for Nestor against this Astros current roster, but he does have a few factors on his side. The weather is not supposed to inspire offense at Yankee Stadium, similar to yesterday. Yesterday, Ballparkpal called for a 12% decrease in run scoring; today, it's -13% with the wind blowing in and colder temperatures.
Not only that, but Nestor loves pitching at Yankee Stadium. This season he's rocking a 1.95 ERA at home compared to a 3.06 ERA on the road. In both of his playoff starts this season, he's rocking a 2.70 ERA and will now be on full rest for this start.
The Yankees theoretically match up well against Lance McCullers Jr. They hit curveballs and sliders well and are due for a bounce-back after putting up a goose egg in game three. Nothing makes me think this offense has any fight in them to get to McCullers Jr.
He looked phenomenal in his first outing of the playoffs, tossing six innings of shutout ball while only allowing two hits to the Mariners. He's had plenty of rest for this game, and the Yankees haven't seen him this year. Following him will be a rested elite bullpen.
If the Yankees' offense comes to play today and they completely reverse what they've shown so far, this game will most likely go over. The Astros should put up 2-3 runs against Cortes but struggle in the later innings.
If the Yankees score four runs today and win, so be it. I highly doubt they will achieve today unless they get lucky on a home run. This series appears to be over and I can get the under at plus money.
The Pick: Yankees vs. Astros Under 6.5 (+100)
1 Unit to Win 1 Unit