Analysis
Vaughn Grissom Could Soon Be the Atlanta Braves Top Prospect
The former 11th round pick is turning heads in 2022, as Vaughn Grissom could soon ascend to be the top prospect in a loaded Braves system.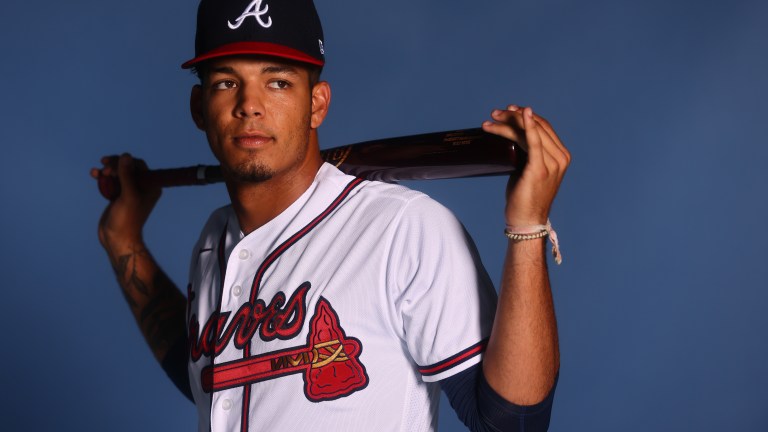 The Atlanta Braves are known for developing good, young talent, as evidence by the play of Michael Harris II, Spencer Strider and William Contreras at the big league level this season. Down on the farm, there is another prospect who is currently turning heads in the Braves system.

This past week, Vaughn Grissom was called up to Double-A to join the Mississippi Braves, and it wasn't because of minor progression. Grissom's numbers nearly echo what we were seeing from Esteury Ruiz during his time in the minors (minus a few stolen bases, of course).
In High-A Rome, Grissom went on a tear, posting a .312/.404/.487 slash line, good for an .891 OPS. Since his call to Double-A, Grissom has actually improved, opening with six hits in his first 10 at-bats, hitting a homer and stealing two bases in the process.
Grissom's full body of work to this point is very impressive, with the mix of power (12 homers) and speed (22 steals) at the ripe age of 21 years old.

Grissom hits and throws right-handed and shortstop is his primary position. He already has ties to the MLB, as he and Riley Greene were both teammates at Hagerty High School in Oviedo, Florida. Grissom was drafted in the 11th round of the 2019 MLB Draft by Atlanta, however, he has ascended significantly since his draft day.
In 87 games between Low-A and High-A back in 2021, Grissom posted an eerily similar slash line to what we are seeing in 2022: .319/.418/.464. In 2022, he has already made some noise by reaching base in 40 consecutive games between Rome and Mississippi.
Not to mention earlier this season, Grissom had a game where he hit not one, but two grand slams.
Grissom has a rather large frame for a shortstop, standing at 6'3, 210 pounds, giving him plenty of pop when he's at the dish.

One major knock on Grissom are his very obvious splits. He has absolutely terrorized right-handed pitching so far in 2022, posting a .326/.411/.521 slash line High-A, good for a .932 OPS. However, against left-handed pitching the power numbers dropped significantly to a .258/.378/.355 line and a much more average .733 OPS.
While there is nothing to complain about when looking at his .378 on-base percentage against southpaws, the numbers do prove his power and hit tool certainly factor much better against righties.

One thing Grissom does very well is avoid the strikeout. So far in 2022, he is striking out only 11.6 percent of the time. Meanwhile, he has driven in 58 runs and counting. Maybe the most impressive thing about Grissom thus far is he finds himself ranked in the top-seven in hits among all minor leaguers with 99. In High-A, he also posted a 145 wRC+ for the Braves, a higher rate than what we have seen from Freddie Freeman (139 wRC+) and Ronald Acuña Jr. (135 wRC+) at that level.

MLB.com ranks Grissom as the fourth-best Braves prospect at this time. While he is still far from reaching the majors, it is worth noting that he has made significant progress from 2021 to the present by ascending from Low-A to Double-A in that period of time. He entered the minors at 18 years old in 2019 following the draft. His ETA for the MLB is in 2023, according to MLB.com.
You can make an argument that Grissom could soon become Atlanta's best prospect if he continues to put up these numbers moving forward. The kid can flat out rake and officially has put his name on the map as a prospect to look out for in an already deep farm system.