Analysis
State of the AL East: Yankees Are Still The Best Team in Baseball
The New York Yankees remain MLB's top team as we check in on the AL East for another State of the Division podcast.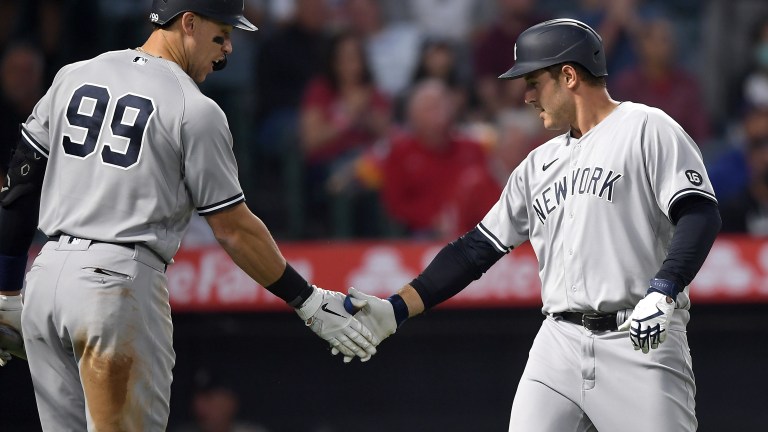 LISTEN TO THE STATE OF THE DIVISION ON APPLE PODCASTS
Double digits! We've finally reached the climax of the 10th week of the MLB season, and it's been as entertaining as promised. The AL East especially, has not disappointed whatsoever. It's been a living soap opera!
As the New York Yankees continue to reign supreme over the rest of this division, Tampa, Toronto, and Boston are all now only separated by three games. It's getting spicy! And Baltimore continues to hang on and stay competitive despite the gauntlet of opponents that they have to face in this division.
Let's run through the past week in this ultra-competitive division and see who's been the hottest over the past seven days.
New York Yankees
Hitter of the week: Anthony Rizzo, First Baseman
The Italian Stallion continues to slug for the Yankees, as Anthony Rizzo is on fire. The veteran experienced an incredible start to the 2022 campaign, racking up a 205 wRC+ during the month of April. He was one of the best hitters in the sport at that time. However, he struggled through the majority of May. But over the past seven days, he's been electric.
Tallying a 282 wRC+ over his five games last week, he mashed three home runs including a walk-off bomb against Tampa Bay on Thursday night.
Even on his day off yesterday, his pinch-hit home run cut Toronto's lead to just one run in the eighth inning. Rizzo is now on pace for 44 home runs, 12 more than his career high of 32. He's mashed this season!
Only time will tell if he can continue producing at this elite rate, but he's been incredible during this campaign. Small note, Joey Gallo has a higher wRC+ than Trevor Story. Just saying.
Pitcher of the week: Nestor Cortes Jr., Starting Pitcher
Reliever Wandy Peralta was my pick for this award prior to recording this week's podcast. However, allowing a Grand Slam against the Toronto Blue Jays post recording didn't bode well for this selection. In turn, I have selected Nestor Cortes Jr.
Wednesday night we saw the battle of the two best pitchers in the American League between Cortes and Shane McClanahan of the Tampa Bay Rays. Nasty Nestor came out as the winner, allowing a miniscule one run over three hits during his 5.1 innings pitched last week.
Nestor has continued to shine with an unbelievable breakout campaign. His 1.94 ERA is the fourth lowest in the American League. Truly the ace for an incredible Yankees rotation, he's thrived in his role this season.
Toronto Blue Jays
Hitter of the week: Vladimir Guerrero Jr., First Baseman
Vladdy is beginning to show his dominance once more this season, finally heating up after a rather slow start compared to his standards. His early season wRC+ of 130 wasn't bad whatsoever, but he has finally arrived after a flawless week last week.
This machine slashed .375/.444/.667 over his 26 plate appearances in his six games, mashing three home runs during that span. He is now up to 17 bombs on the season, inching closer and closer to the immense 48 he dropped last season. A group of Blue Jays are finally starting to catch fire, but Guerrero Jr. leads the bunch.
With the Toronto pitching staff continuing to implode on a daily basis, this Blue Jays team needs Vladdy to stay hot if they want to continue to win baseball games. And as one of the best hitters on the planet, I'm sure he will.
Pitcher of the week: No one.
Hear me out on this one. Not a single Toronto pitcher put out a good start this past week, and it cost them. The early season dominance of Alek Manoah and Kevin Gausman was faltered this past week, with each of them allowing more than four earned runs. Last week, I fully believed that Jose Berrios was back in business. Unfortunately, he is not. He too allowed four earned runs against Baltimore, yet another poor performance. And Yusei Kikuchi allowed seven earned over his eight innings pitched this week, not great.
This Blue Jays pitching staff is slowly beginning to fall apart. After losing a starter with Ryu going down, it's becoming thinner and thinner by the day. The team without a doubt needs to invest into a starting pitcher at the trade deadline if they want to compete in the playoffs, because their offense is simply carrying them right now.
Tampa Bay Rays
Hitter of the week: Ji-Man Choi, First Baseman
Once more I will be highlighting the greatness of Yankee legend Ji-Man Choi, as he continues to rake in 2022. Choi's 200 wRC+ last week led the Tampa Bay Rays, as they continue to search for answers on offense. He's been the best run producer for the team this year, racking up a 154 wRC+ over his 177 plate appearances.
The clear health concerns with Tampa Bay continue to haunt them, as their offense has become rather stagnant. How much longer will Choi produce at such an elite level for this team?
With both Brandon Lowe and Wander Franco beginning to ramp up their rehab assignments, help is on the way for this Rays team. This offense needs to produce at a higher level if they want to experience success in the playoffs, and the results will come soon.
Pitcher of the week: Shane Baz, Starting Pitcher
Recently back from injury, starting pitcher Shane Baz put in a great performance this week against Baltimore. The young gun threw six innings of two-hit ball, striking out seven and didn't allow a single run. Baz is another dominant piece in a Rays rotation that continuously gets great production.
With the offense struggling the way it has this season, Tampa Bay has heavily relied on performances of pitchers like Shane McClanahan and Corey Kluber. Adding Baz to an already successful group will only provide positive results and will surely help the in their journey to the playoffs.
However, Baz's start last week is the perfect definition of the 2022 Rays. Yes, he was incredible. But the Rays offense couldn't get it going that day, losing 1-0 to the Baltimore Orioles. They have to kick it into gear, and fast.
Boston Red Sox
Hitter of the week: Xander Bogaerts, Shortstop
Future Los Angeles Angel Xander Bogaerts continued to mash last week for the Red Sox. He's slowly putting together an all-time campaign and is making a case to be the American League shortstop in this year's All-Star game. In a contract year, he's doing it at the best time possible.
Bogaerts slashed .579/.591/.737 with a whopping 275 wRC+ in his 22 plate appearances last week. The shortstop has to share the credit for the resurgence of the Boston Red Sox this season. After an incredibly slow start, they're beginning to show us why they were able to make it to the American League Championship Series last year.
With Bogaerts, J.D. Martinez and Rafael Devers continuing to mash, this offense looks unstoppable right now. And with only a 2.5 game lead separating them and the second place Blue Jays, its getting extremely tight.
Pitcher of the week: Michael Wacha, Starting Pitcher
Again? This guy might be an ace. Michael Wacha has been incredible for the Boston Red Sox this year. Coming into the season, many of us had questions about this rotation and predicted it would be their downfall in 2022. However, they've been impressive.
Wacha had the best performance of any Boston starter last week, tossing five innings of one-run ball against the St. Louis Cardinals. This same Cardinals offense put up a 10-spot just the very next day, so for Wacha to shove against such a potent offense was impressive.
Like I previously mentioned, the starting rotation was a massive question mark for this team. But with both Chris Sale and Nathan Eovaldi set to return soon, it could become an area of strength for them. This is also another team that could add a starter at the deadline to poise them for a playoff push.
With all that being said, I am very confident that this team will be the second-place team in the division come the end of the year. With such a potent offense and an elite rotation that will only get better, they're one of the best teams in the sport.
Baltimore Orioles
Hitter of the week: Ryan Mountcastle, First Baseman
The fourth and final first baseman we will tap on today is Ryan Mountcastle of the Baltimore Orioles. One of the hottest hitters in the sport at the moment, he's been incredible recently. Orioles hitters as a whole have been much improved lately. But Mountcastle is on a different planet right now!
Mountcastle dropped three bombs to go along with seven RBIs in his six games last week. His 279 wRC+ was one of the highest in baseball over the last seven days, and he led this team to a few key wins against divisional opponents.
The first baseman is one of the many players Baltimore will assumingly look to deal at the trade deadline. Names like Austin Hays, Cedric Mullins, and Trey Mancini could also be apart of that group. There's some great talent on this roster that could play a huge role for a contender later this year. As this team moves towards a youth movement, I wouldn't be surprised if they just continued to garner high-level prospect talent this summer.
Pitcher of the week: Tyler Wells, Starting Pitcher
Another name from last week that has appeared once more, Tyler Wells shoved against a potent Toronto offense last week. Scratched from his start yesterday, the starter impressed earlier last week.
Baltimore blew out Toronto 10-2 last week in a game that was a gambler's worst nightmare. He allowed five hits over six innings, with his only earned run coming from a solo home run. Only striking out three, he pitched to contact, and it was successful.
This Baltimore rotation also hasn't been as bad as we all expected them to be. While I don't think any of these pieces will move at the deadline, there's a decent amount of talent that the Orioles can hang onto as they wait for their winning window to open.