Interview
JB Exclusive: Tucker Davidson Looks Back On His Unforgettable 2021 Season
Atlanta Braves pitcher Tucker Davidson joined the Just Baseball Show to discuss his wild ride in 2021, starting in Triple-A and finishing the year pitching in the World Series.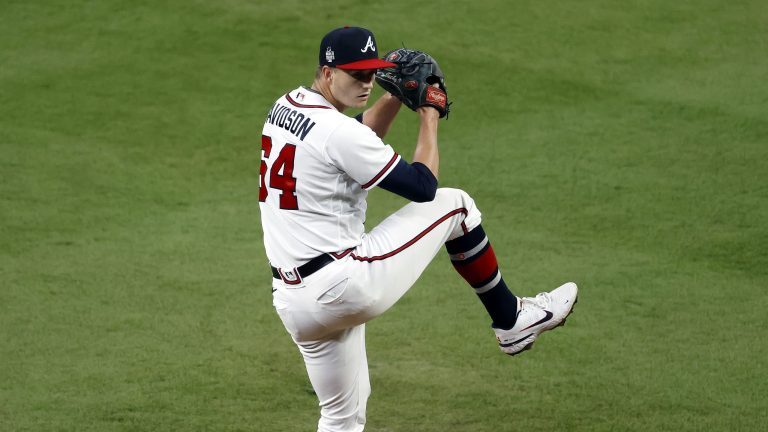 The 2021 season was a wild ride for Atlanta Braves lefthander Tucker Davidson.
The 25-year-old lefthander started the year in Triple-A, but he ended the season by reaching the most coveted stage in all of baseball.
Davidson sat down with Pete Appel and Jack McMullen on an episode of The Just Baseball Show to talk about the Braves wild World Series run, his unexpected Game 5 appearance, and his preparation for the 2022 season (assuming there is one).
After being selected by the Atlanta Braves in the 19th round of the 2016 MLB draft, Davidson spent the next few years grinding through the minors before making his MLB debut in September of 2020. The Amarillo, Texas native used his time in the minors to further develop his arsenal, and he made big strides with his slider.
"It's just all I worked on," Davidson said on the Just Baseball Show. "I didn't have a change-up that was very good in triple-A and I got exposed when I didn't have my fastball or didn't have my curveball that day. I was like, 'I got to have a third pitch to be a starting pitcher.'"
Davidson played in the minors from 2016-2020 with a brief stint in 2021, and over these years he matured as a pitcher both physically and, more importantly, mentally.
There are plenty of prospects who can throw 95 or chuck a breaking ball that drops off a cliff, but the pitchers that make the final cut are the ones who can out-think hitters. Pitching in the MLB is a lot more than just throwing a ball.
"A lot of it was mental preparation," said Davidson. "I didn't really learn the mental side of baseball until I got to about double-A or triple-A…you have to think through hitters."
With the advanced scouting and analytics that we enjoy in today's game, hitters are well-prepared to face most pitchers, especially division rivals. The best pitchers understand how to work pitch-by-pitch and keep hitters on their toes. Davidson briefly flashed this in his 2021 World Series start against the Houston Astros.
"Anything can happen," said Davidson. "If you let things spiral out of control, you don't ever get to be in control of the game. You're the one that's starting every at-bat…you are in full control."
Davidson walked Michael Brantley in the first inning of Game 5 after Jose Altuve lined out to left field. He could've panicked under the pressure, but he got Carlos Correa to ground into a double play to end the inning.
It was a wild course of events for his first-career postseason start, but it doesn't compare to the story of the events that transpired before he hit the bump in Game 5.
Braves star pitcher Charlie Morton fractured his fibula in Game 1 of the World Series, which ended close to midnight. After watching the game, Davidson knew Atlanta was going to need someone to fill Morton's spot. He got a phone call about 45 minutes later.
A couple of Uber rides and a short flight later, and Davidson was in Houston by 11 p.m. that night ready to go. He was named the Game 5 starter a few days later.
"It happened so quickly," said Davidson. "I just remember going out for [batting practice], and my heart was just like my debut again…I was just like, 'wow, all this is happening really quickly.'"
It's only up from here for Davidson at this point, especially if he's teammates with guys like
Charlie Morton, Max Fried, and Ian Anderson. The chemistry amongst the Braves pitchers was a big reason why their clubhouse bonded so well last season. Davidson will have plenty of learning opportunities on a team that just came off their first World Series victory since 1995.
"Everyone just had each other's back," said Davidson. "Everybody was kind of rolling on the same engine and it didn't matter if you had a bad game, somebody was there to pick you up…everybody was enjoying having fun and we knew we were the best team at the time. We were playing the best, and we weren't afraid of anybody."
Davidson will be competing for a spot at the end of the Braves starting rotation. He has a 93 MPH fastball in his tool belt (which was 3.5 MPH than his 2020 season average), and an effective offspeed game when his stuff is breaking.
He has put in a ton of work over the past few years trying to perfect his mechanics and his command, but the main focus for the 2022 season is to stay on the field.
"2022 is just mainly about health," said Davidson. "I missed three and half months last year due to a forearm injury, so that's a big thing for me. I want to be able to log 150 innings at the start of the year…I need to go the full season."
It will be a tall task to produce for a Braves squad that is looking to repeat, but Davidson is just excited to get back to winning games at Truist Park.
"You're going to have a hard time beating us in Atlanta," said Davidson. "Our crowd brings so much energy and excitement and we feed off of that. Late innings, you never know with us. We could hit a ball off the Chop House before you know it and all of a sudden we are right back in the game."