Analysis
Breakout Hitting Prospects for 2022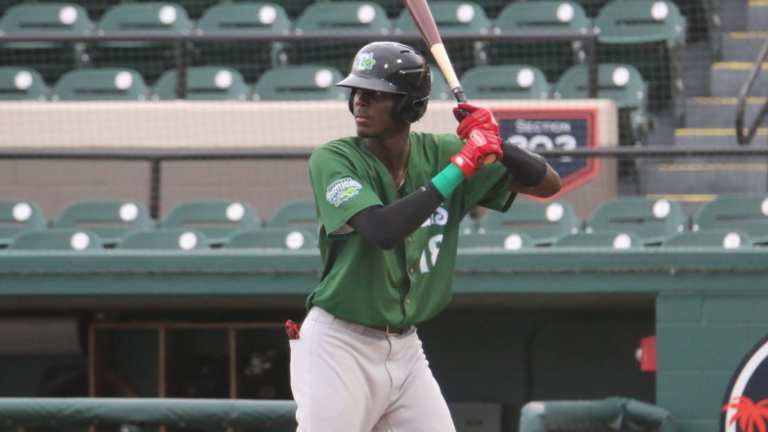 Minor League Baseball returns on April 5th which means it is time to start identifying the next batch of prospects who could burst onto the scene this season. There will likely be a few iterations of this article because there are so many names across the baseball landscape who can and will break out next year, but here are some of the first position players who come to mind.
Elly De La Cruz – Shortstop – Cincinnati Reds
Already the fifth ranked prospect in the Reds system purely based on his upside, De La Cruz has some of the loudest tools in professional baseball. Just 20 years old, De La Cruz put his plus plus speed on display by legging out seven triples in just 50 Low-A games.
De La Cruz is a switch hitter who has already posted exit velocities as high as 113 mph despite only measuring at about 150 pounds. The shortstop has a lot of room to fill out and projects to grow into at least 70 grade raw power. I know, it all sounds crazy, but De La Cruz really does have organization altering upside.
The tools are exciting, however De La Cruz is still an incredibly raw prospect. He struggles to repeat his swing mechanics and has an insanely aggressive approach. In the 20-year-old's defense, he has hardly been able to get much experience under his belt after debuting in 2019 and the cancellation of 2020's season.
There's high ceiling prospects and then there's Elly De La Cruz, but the tooled-up infielder has some maturing to do at the plate if he is going to ascend the way he is capable of in 2022.
Jose Salas – Shortstop – Miami Marlins
Salas broke in at the Low-A level shortly after turning 18 years old and held his own last season. Strong bat to ball skills and a pretty mature approach helped Salas compete as one of the younger players at the level, but he struggled to tap into any power.
After seeing Salas on the backfields recently, it is clear that he continues to get more physical. He could benefit from a more active lower half but natural strength will continue to help Salas in the power department as he matures. Salas has an incredibly smooth and repeatable swing from both sides of the plate and as the power develops, 20+ homers with good on base skills could be in the tank.
Salas has good complementary tools as well with above average speed and a strong arm. He may ultimately move to third, but his bat should more than play there. Still just 18 years old, it wouldn't be surprising at all to see Salas kick things into gear and push his way into top 100 consideration by season's end. The infielder will need to get the ball in the air a bit more as he develops physically.
Johan Rojas – Centerfield – Philadelphia Phillies
A flat out speedster, Rojas surprised with an ability to impact the baseball last season. The 21-year-old ran into 10 home runs and 32 extra base hits in 95 games. Rojas does a great job of putting the bat on the ball, boasting just a 17.9 K% last season. There is no doubting Rojas' bat speed, but his swing is a bit unusual. It is hard to argue with the results thus far and though he has your typical aggressive approach for a young high contact prospect, Rojas seemed to settle in a bit more in High-A.
Defensively, Rojas has the goods to be a star in center. Plus plus speed with a strong arm and improving reads/routes, Rojas gives himself the floor of a fourth outfielder. With the speed and sneaky power combination that Rojas boasts, it is hard to argue against him being a breakout candidate for 2022. A ton of extra base hits and stolen bases along with high contact rates is an exciting possible outcome for Rojas as soon as this coming season.
Jaylen Palmer – Third Base – New York Mets
Palmer was a pop up prep prospect in the Flushing, NY area and was scooped up in the 22nd round by his hometown Mets for an over slot signing bonus of $200,000. Palmer is another prospect who I was fortunate enough to see on the backfields recently and he absolutely commands a presence in the batter's box.
Standing at about 6-foot-4, 210 pounds, Palmer is capable of bit time power. What has impressed me the most about the 21-year-old, however, is his simplicity of his swing. There's some swing and miss that is more due to his inconsistent base, but Palmer's stroke is quick, efficient and direct. As a result, he has no issue catching up to high velocity as well as using the whole field.
Where Palmer gets into a bit of trouble is with the breaking ball. As a northeast prep prospect who missed an essential year in his development, it is understandable that Palmer would struggle a bit with High-A breaking balls in what was his first season above the rookie level. Palmer has the tendency to drift towards the softer stuff, leaving his backside and base. The fact that Palmer is so quick and direct to the ball gives him more time to make decisions and he actually has a good feel for the strike zone.
If Palmer is able to read spin a bit better and continue to improve in the body control department, he could be a force. The third baseman is an above average runner despite being built like a linebacker and has 30+ home run potential.