Feature
Bob Costas Discusses the State of Baseball
Broadcast legend and baseball historian Bob Costas joins the Just Baseball Show.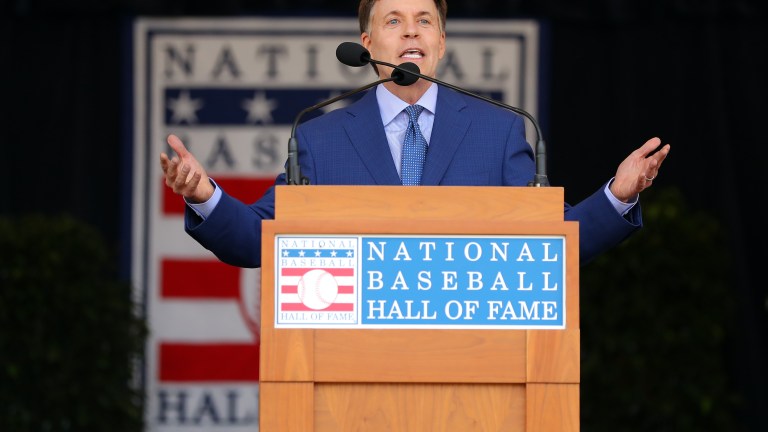 Baseball has gotten a bad rap lately.
Past and imminent CBA disputes hang over the league's head, and it seems like the past few seasons have been spoiled by controversy. The intricacy of shifts has eliminated the art of small-ball and has contributed to baseball's popular home run or bust approach. It feels like MLB has taken a few steps back over the years, but at the same time is loaded with more exciting and marketable talent than we have seen maybe ever.
The 2021 All-Star Game proved that baseball is in good hands. With names like Mike Trout and Mookie Betts out of the picture, it was a new crop of young talent that stole the show. 28-time Emmy Award winner Bob Costas joined the latest episode of the Just Baseball Show to remind the world that the sport is headed in the right direction.
Technology, science, and analytics have changed the strategy of baseball rather quickly. Players now have information cards in their hats or back pockets, telling them where to shift on practically every pitch.
"At present, pitching is so far ahead of hitting," said Costas. "The sophisticated shift and analytics work against base hits. You got guys trying to hit the ball over the shift and out of the park because that's what analytics indicates. There is no stigma connected to the strikeout anymore."
The number of home runs per year across the league has increased astronomically since the early 2010s. The rapid progress of analytics has changed the way the game is played.
"We know that baseball is in the process of trying to adjust," said Costas. "Not so that someone can hit .400, but so that the game regains its natural balance and that it returns to being the more entertaining form of baseball that many of us remember… baseball is aware that it isn't just competitive balance that has to be restored, but that this is also a business, and it's an entertainment product."
All-Star Weekend was a refreshing reminder of the ridiculous talent Major League Baseball currently boasts. From Pete Alonso defending his home run title by launching 500-foot moon shots while bobbing his head to Mobb Deep, to Vladimir Guerrero Jr. smacking a 468-foot homer in the All-Star Game while Fernando Tatis Jr. was mic'd up, there's no shortage of entertaining, young talent.
"A lot [of the conversation] is focused on what's wrong with the game," said Costas. "There is a whole lot that's right about the game. There is an enormous influx of vibrant and excellent young talent, people that have a passion for the game. There's a whole lot to embrace and be interested in."
The aforementioned Fernando Tatis Jr. and Vlad Guerrero Jr. have rejuvenated fans and brought swagger back to baseball. Rafael Devers, Bo Bichette, Ronald Acuña Jr., Ozzie Albies, and Juan Soto were All-Stars under the age of 25.
The league has never seen such a large group of elite young talent, and they also haven't seen a more globally diverse talent pool.
"Teams are looking for the best possible talents wherever they can find it, so in that sense, that talent search is global," said Costas. "The internet and advance technology make that search a little bit easier and more comprehensive than it used to be, so I think we'll only see more and more of this."
Just look at what happened in the All-Star game. Vladdy Jr., who is Dominican, won the MVP; Shohei Ohtani, who is Japanese, got the win; and Liam Hendricks, who is Australian, got the save. The game is growing like never before, and the league's search for talent is as broad as ever.
Don't worry folks; baseball is doing just fine.
Listen to the full interview with the legendary Bob Costas below: